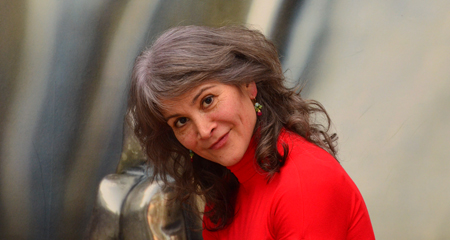 Renée
Hi, I am Renée.
When i discovered yoga in 2009, it became clear to me. This is what I want to do.
Teaching yoga!
At that moment I was still working in the production at Peijnenburg's cake factory where a reorganization was at hand so people needed to go. I offered to be one of them because there was this gutt feeling about yoga that I decided, after 26 years, to be laid off.
Growing up in a Catholic environment I was always curious about God, (what did he look like) Heaven and hell (where are these places?)
At school I learned about the evolution. Do we come from the apes?
I was curious for the world, different people from different countries. It interests me.
Being born in Indonesia I never felt like a foreign girl in Holland though I was called names regularly, untill a classmate made a remark about my Dutch and pronunciation of it.
I also had bad eyes and for that reason wore glasses with those thick glasses. That was another reason for calling me names ( four eyes) I became aware of myself and my reactions. Later in my growing years I heard of conflicts, wars over religion, pain and sadness over injustice and looks. Then I was always wondering why do people act this way.
Later on I have seen how people can forget about their differences when love is at play. In my eyes that was the solution. Love is the greatest power.
So here I am, believing in love only, the love for yourself, the other and nature.
Yoga speaks to me because it has nothing to do with any religion. It has been a fascinating journey and still is where most of my questions are answered. The benefit of training the body I have felt long ago with my running, aerobics and steps lessons that I taught. That is why yoga, where we use the body consciously, is so effective in getting to know ourselves. It can be so effective and useful for the people nowadays where the head is growing and growing. We are all the same; coming from the same source, is what yoga is telling us. Let us focus on our similarities instead of our differences, regardless of our origin; oneness in diversity.
In October 2009: Teacher Training in Eindhoven
In July 2011 level 1 Yin yoga with Paul and Suzee Grilley
In January 2013 level 2 Yin yoga with the Grilley's
In May 2014 Insight Yoga with Sarah Powers
In October 2018 Philosophy (the Yoga Sutra's) with Paul Grilley. Diving deeper in the head with this course as also each time on the mat.
My goal is to let people experience yoga, as many as I can. What a lovely perspective!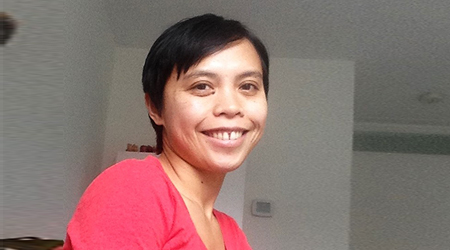 Sabar
My name is Sabar Endang Purba. My first yoga class was in 2007 taught by a colleague back in Indonesia. At that time I worked as street fundraiser for Greenpeace which during work I stood and walked a lot, at least 3 hours straight. That one hour class on Fridays made a huge difference on how I felt in my tired stiffy body.
Later I got another job in humanitarian organization with more desk job and a lot of traveling. The stress started to accumulate on my shoulders, neck and hips as well. I also had long term burnout. Since I didn't have access to yoga class, I bought a yoga DVD and practiced every morning, many times in my hotel room. The same old 45 minutes was much better than nothing.
For years my practice was not steady for many reasons, but every time I made it to my mat, it was always a healing experience. Even if only 10 minutes. Since 2016 I have been practicing daily. For me yoga means healing. Both from physical and mental suffering, from stiffness in the body or the darkness of sadness. And that is the yoga that I want to bring to my class. Let's find what heals you!
In July 2019 I finished a 200 hours Vinyasa Teacher Training with Yoga Moves Utrecht. Now I keep continue my practice and study different aspects of yoga while starting to teach as well.
Yogashala-om
Hofdael 67, 5664 GM Geldrop

Renée Brouwers-Matulessy
Telefoon: 040-2860203
Mobiel: 06-29373150
E-mail: info@yogashala-om.nl
BTW NL001702599B63
KvK. 50618903
IBAN: NL82SNSB 0787. 8048. 43
- Yang
- Yin
- Ashtanga Yoga Mysore-stijl
- Half LED Class
- Yin, Ashtanga en Meditatie
- YinYang/Easy FlowYinYang flow/Vinyasa Flow
- Yinyoga